Wijlen Malik Shain
Israeli forces shot dead a 19-year-old Palestinian during a predawn detention raid into Duheisha refugee camp to the south of Bethlehem
on Tuesday.
Medics identified the Palestinian as Malik Akram Shahin and said he had been shot in the forehead, where the bullet remained lodged.Witnesses said he was "left bleeding for long before he was evacuated to the public hospital in Beit Jala, where medics pronounced him dead.
"He was killed when large numbers of Israeli forces stormed Duheisha camp in the early hours of Tuesday, detaining a number of local residents and delivering summons to others. As the soldiers broke into Palestinians' homes, they reportedly fired live rounds, tear gas canisters, and stun grenades "indiscriminately" through the camp's narrow alleys.
An Israeli army spokesperson said that "overnight, a riot broke out" in Duheisha camp, with Palestinians throwing "pipe bombs and Molotov cocktails" at Israeli soldiers.She said the soldiers fired "warning shots" into the air to disperse them. She had no immediate information on Shahin's death.Locals identified some of the detainees as Mustafa Atiyeh al-Hasanat, 20, Muhammad Ali Abu Ajamiyeh, 19, Diyaa Khalil al-Jaafari, 20, and Muhammad Ilias Sarahnah.Shortly after Shahin was shot dead, dozens of young men rallied in the camp in protest. A Bethlehem committee announced a halt to all business across the district and stores were closed.
The Israeli site YNet reportes that Israeli security forces on Tuesday abducted Bassel Abou Alya (26) from the northern West Bank, from a hotel in Ramallah, i.e. ''Area A'', where Israeli forces don't have juridsdiction or acces. Abu Alyia was arrested due to his involvement in an
attempted stabbing attack
on October 30 at the Tapuach (Za'atara) junction south of BNablus in the West Bank with another Palestinian ''terrorist'' who was killed. He was transferred into Shin Bet custody,
according to YNet
.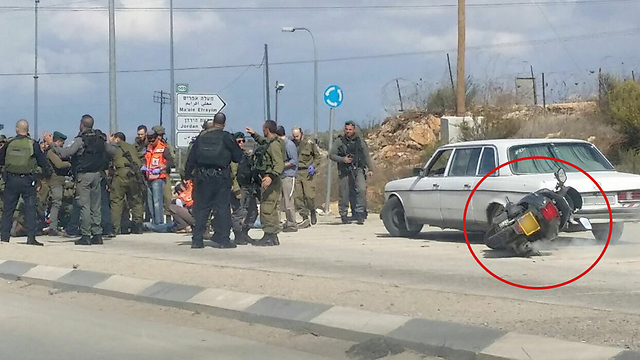 Although he was wounded by a border policewoman's fire, Abu Alya managed to flee the scene to a Red Crescent ambulance, which evacuated him to Rafidia hospital. The Shin Bet managed to pick up his trail using accurate intelligence. He was arrested at a Ramallah hotel by undercover IDF troops. The arrest went without incident.