Tanks in the vicinity of the presidential palace. There are report that the Republican Guard is also blocking roads with concrete obstacles.
The military began securing several places in and around Cairo on Tuesday ahead of expected mass protests on 30 June, a military official told Egyptian state
news agency MENA
. On of the first spots was Cairo's Media Production City (MPC), located in 6 October City, a satellite city on the outskirts of Cairo, and home to most private Egyptian television and radio stations. Armed vehicles and infantry will be used to secure the compound, the source said. On Wednesday army vehicles also appeared around the presidential place and at several places in the northern Heliopolis part of Cairo and
the adjoining Nasr City.
The opposition plans mass demonstrations on 30 June, departing from several areas in the city, demanding that president Morsi steps down. The Tamarud (rebel) campaign has been busy getting support for a petition demanding the Morsi leaves and claims to have gathered several million.signatures.
Meanwhile Al Ahram Online reported that Egyptian state television employees are gathering votes calling for the dismissal of presidential media representative Ahmed Abdel-Aziz. He is accused of having interfered with editorial policy. Amer El-Wakil, news editor at the Egyptian Radio and Television Union (Maspero), said on private-owned satellite television channel ONtv that Abdel-Aziz, who represents the presidency for media affairs, had demanded last Friday that coverage of upcoming protests should be restricted to pro-government rallies, while ignoring planned opposition protests against
President Mohamed Morsi.
Earlier, state-owned daily Al-Akhbar's chief editor, Mohamed Hassan El-Banna, criticised the Muslim Brotherhood – from which Morsi hails – saying he had been contacted by one of the group's members who had condemned the paper's coverage. In an editorial on the front page of Al-Akhbar Mohamed
Hassan Al-Banna wrote:
"Some of them imagine that Al-Akhbar won't publish truths the way other papers do it... I reject any pressure from anyone, particularly members of the Muslim Brotherhood.
Some imagined that Al-Akhbar, as a newspaper falling under the auspices of the government ... will say 'Amen' to whatever the government says and conceal facts and information about the regime, deceiving its readers," he added
The Muslim Brotherhood and presidency are accused by Egypt's opposition of trying to wrest control of Egyptian state institutions in an attempt to impose single-party rule like its predecessor, ousted president Hosni Mubarak's National Democratic Party. Leading Brotherhood figures deny such attempts and accuse Mubarak's "deep state" – loyalists permeating the state apparatus – of working against the aims of Egypt's 25 January revolution.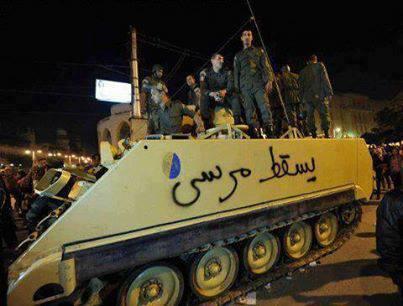 The tanks not only returned to the streets of Cairo, also the first ones were spotted with graffiti demanding the downfall of president Morsi, just like it was the case with Mubarak two years ago. (Picturte taken from Twitter)