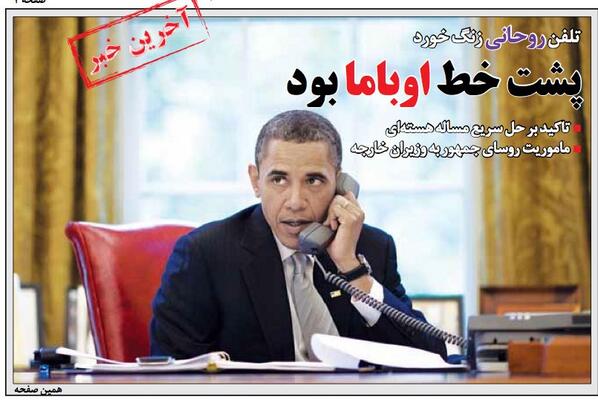 The Iranian press showed an Obama calling Rohani.
President

Barack Obama

and President Hassan Rohani of Iran spoke by telephone on Friday as a sign that they are serious about reaching a pact on Tehran's nuclear program. The phone call was arranged by Obama's staff, after Rohani had signalled that he was willing to talk top Obama on the phone, Reuters reports. A
source close to Rohani said the United States had reached out after positive talks between Secretary of State John Kerry and Iranian Foreign Minister Mohammad Javad Zarif a day earlier, according to Reuters. The conversation between Obama and Rohani

was the first direct contact between American and Iranian heads of state since the occupation of the American embassy in Tehran in 1979.
President Obama afterwards gave the following - remarkably positive -
statement:  
Just now, I spoke on the phone with President Rouhani of the Islamic Republic of Iran.  The two of us discussed our ongoing efforts to reach an agreement over Iran's nuclear program.  I reiterated to President Rouhani what I said in New York — while there will surely be important obstacles to moving forward, and success is by no means guaranteed, I believe we can reach a comprehensive solution.