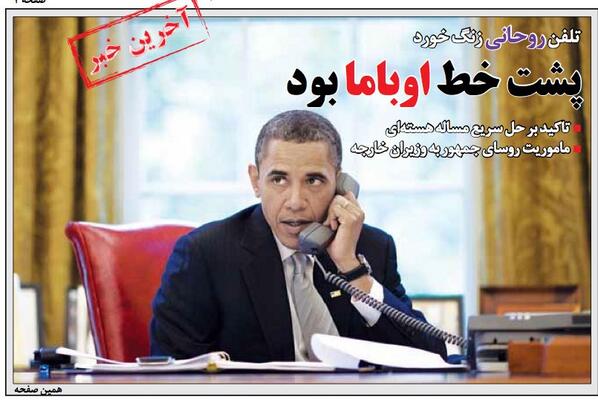 The Iranian press showed an Obama calling Rohani.
President

Barack Obama

and President Hassan Rohani of Iran spoke by telephone on Friday as a sign that they are serious about reaching a pact on Tehran's nuclear program. The phone call was arranged by Obama's staff, after Rohani had signalled that he was willing to talk top Obama on the phone, Reuters reports. A
source close to Rohani said the United States had reached out after positive talks between Secretary of State John Kerry and Iranian Foreign Minister Mohammad Javad Zarif a day earlier, according to Reuters. The conversation between Obama and Rohani

was the first direct contact between American and Iranian heads of state since the occupation of the American embassy in Tehran in 1979.
President Obama afterwards gave the following - remarkably positive -
statement:
Just now, I spoke on the phone with President Rouhani of the Islamic Republic of Iran. The two of us discussed our ongoing efforts to reach an agreement over Iran's nuclear program. I reiterated to President Rouhani what I said in New York — while there will surely be important obstacles to moving forward, and success is by no means guaranteed, I believe we can reach a comprehensive solution.

I've directed Secretary Kerry to continue pursuing this diplomatic effort with the Iranian government. We had constructive discussions yesterday in New York with our partners -- the European Union, the United Kingdom, France, Germany, Russia and China -- together with the Iranian Foreign Minister. Going forward, President Rouhani and I have directed our teams to continue working expeditiously, in cooperation with the P5-plus-1, to pursue an agreement. And throughout this process, we'll stay in close touch with our friends and allies in the region, including Israel.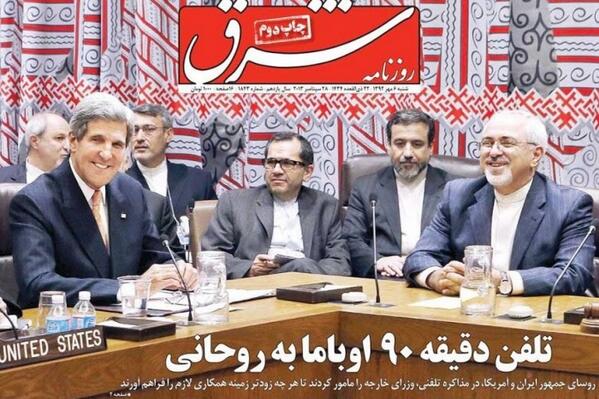 The American Secretaryof State John Kelly siotting next to
Mohammad Javad Zarif, his Iranian counterpart, on a photo on the frontpage of an Iranian daily.
Rohani described his response to Obama in four tweets: "In regards to #nuclear issue, with political #will, there is a way to rapidly solve the matter… We're hopeful about what we see from P5+1 and your [government] in particular in coming weeks and months… I express my gratitude for your #hospitality and your phone call. Have a good day Mr. President… Thank you, Khodahafez
[God preserve you]."
The clearest sign of a thaw between the two nations since the Islamic Revolution. Prime minister Netanyahu, who has described Rohani as 'a woolf in sheep's clothing, must be gritting his teeth.
Update:
Rohani was greeted upon his arrival at Tehran airport by a crowd that cheered an chanted '' Rohani we thank you'. However a smaller crowd of some 100 people, at the other side of the road, was shouting
"Death to America" and "no compromise or surrender to our national interests".
These opponents also pelted Rohani's car with eggs and stones,.showing that also in Iran itself there is considerable opposition to a more moderate course
towards the West.