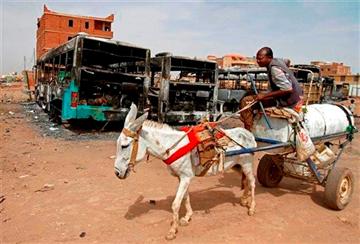 Man in donkey cart passes burnt out busses in Khartoum, (Photo AP).
Seven hundred people have been arrested during a week of the worst unrest in central Sudan in years, the government said on Monday, as protests continued against President Omar Hassan al-Bashir.
At a news conference called by the government to put forth its side of the week's events, I
nterior Minister Ibrahim MahmoudHamad
said 34 people had died. Sudanese human rights activists and some diplomats had put the number at up to 150.
Hamad said police had not used live ammunition against protesters who, he said, had attacked more than 40
petrol stations, 13 buses, and many private cars and government buildings."This has nothing to do with protests," Hamad said and added that there were indications that rebels from Sudan's borderlands were involved in the violence. He dismissed photographs of shooting victims circulating on the Internet as fakes. "Most pictures on social media are actually from
Egypt
," he said.
In a tense exchange, journalists challenged Hamad, one of the most powerful ministers in Bashir's cabinet. "Why do you keep lying?" one reporter asked him. "It's known the people are killed by NCP (Bashir's National Congress Party) militia."
Accusing foreign media of pursuing an anti-Bashir agenda, Sudan has closed the offices of two foreign television news channels: Saudi-owned al-Arabiya and Sky News Arabia, an off-shoot of Britain's Sky News, based in Abu Dhabi. several local newspapers have also been closed because of their coverage of the unrest, he said, adding that they would be allowed to resume work at some point later.
The government of Bashir, who seized power in a 1989 coup, has resisted calls to repeal the subsidy cuts that pushed up gasoline prices by almost double overnight.
On Saturday, a group of Islamists and members of Bashir's National Congress Party urged the president to reverse the austerity measures.The cuts have been driven by a financial crunch since the secession of oil-producing South Sudan in 2011, which deprived Khartoum of three-quarters of the crude output it relied on for state revenues and foreign currency needed to import food.
The protests are much larger than demonstrations last year against corruption, inflation and earlier fuel subsidy cuts. But they are tiny compared to the masses who turned out to oust rulers in
Egypt
and Tunisia.