Egypt's interim president Adly Mansour decided Thursday afternoon to extend the state of emergency, imposed on 14 August, for 2 months,
AhramOnline confirmed.
At the same time the government failed to unveil any plans to lift the night-to-morning curfew it imposed in 14 governorates on the same day.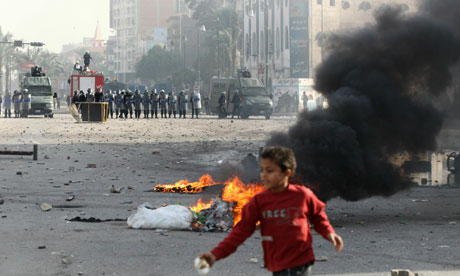 Suez, January 2011 (Khaled Dessouki/AFP)
On the same day an Egyptian court acquitted all 14 defendants, including policemen, accused of killing 17 protesters during the bloodiest day of a revolt that toppled autocrat Hosni Mubarak over two years ago,
judicial sources said.
Former Suez security chief Mohamed Abdel-Hady, along with three other officials and 10 policemen, were accused of killing 17 demonstrators and injuring 300 others on 28 January 2011, dubbed "Friday of Rage."
Egyptian businessman and member of the now-defunct National Democratic Party Ibrahim Farag, along with his three sons, were also found not guilty of the same charges. Farag -- known in Suez as "the killer of protesters" -- and his family were said to have opened fire from a rooftop at protesters in Suez, killing or
injuring dozens
.
Over 840 people were killed during the 11-day uprising that toppled long-time autocrat Hosni Mubarak. The excessive use of force and live rounds by security forces was widely blamed for the deaths.
To date, however, Egypt's judiciary has failed to convict anyone belonging to the security apparatus for murder during the protests.
The deaths in Suez City triggered violence across Egypt on what was later called "The Friday of Rage" - January 28, 2011.
The Muslim Brotherhood and some human rights activists accuse the army-backed government of trying to bring back the old order, accusations it denies.