Issue of Al-Domari
Ali Farzat, possibly Syria's best known cartoonist plans to relaunch his independent magazine Al-Domari, meaning the Lamp Lighter, in Egypt. The magazine, which was founded in 2000 during a brief period of media freedom, was forced to shut down by Assad's government in 2003.
Farzat who is currently in Egypt, told this in an interview with
Reuters press agency.
"The magazine's purpose is to gradually remove the darkness that befell our Arab world," he said.
Farzat told the agency that he hopes to form a symposium with young artists and cartoonists in Egypt to support the art movement that grew out of Egypt's uprising. "These cartoons stem from the sorrows of people. They give them courage and determination," said Farzat.
A little more than a year ago Farzat was kidnapped, beaten and burned in an attack that was apparently the work of the Syrian security agencies in a attempt to silence him. His hands were smashed and he suffered facial burns, a temporary loss of his eyesight and multiple broken bones. Farzat escaped to Kuwait to recuperate, but recently came to Egypt.
Farzat earned recognition in the Arab world and beyond for stinging cartoons of Arab leaders such as Libya' Gaddafi, Saddam Hussein of Iraq and finally Bashar Assad.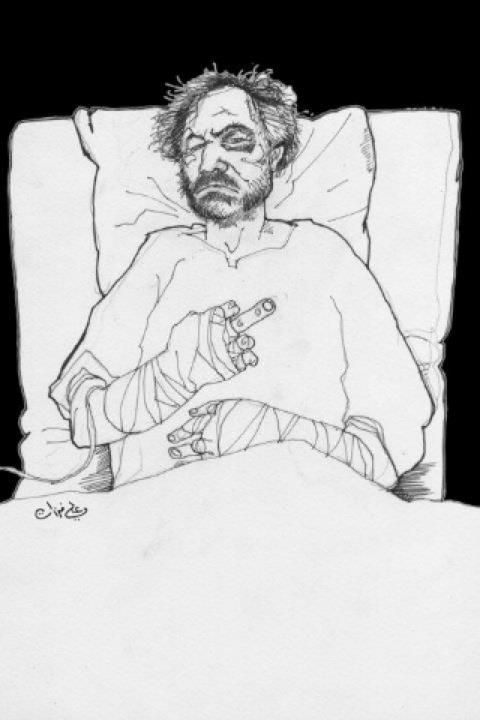 Farzat: self portrait after the attack