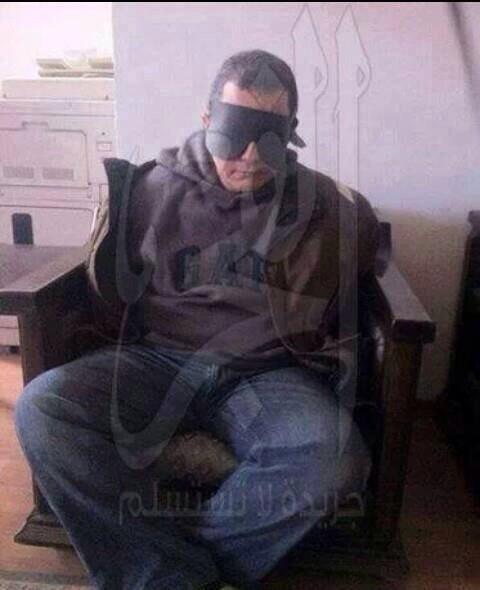 Hisham Qandil, prime minister during the time of the deposed president Mohammed Morsi, was arrested late Tuesday when he was trying to trsavel to Sudan. The picture shows him blindfolded and with his hand tied on his back. Qandil is incarcerated in the Tora prison in Cairo. He has to serve a year in jail for not having execurtd a court order from 2011 ordering the re-nationalisation of the Tanta Flax and Oil Company.
Egypt's interim government on Wednesday officially declared the Muslim Brotherhood a terrorist group. Deputy Prime Minister Hossam Eissa said in a declaration that the cabinet decided the Brotherhood is a terrorist group, making it subject to Article 86 of the Egyptian penal code, which defines terrorism and the penalties
for engaging in it.
Eissa mentioned that the deadly bombing in the Delta city of Mansoura as well as attacks on churches and other violent incidents attributed to members of the group led to the decision.
Prosecutors are still investigating the Mansoura bombing that left 16 dead, which happened Tuesday. It was claimed by the Islamist militant group Ansar Beit Al-Maqdis. It is not yet known if the group has any link to the Muslim Brotherhood.
Some of Egypt's political forces also blamed the Muslim Brotherhood for the deadly attack on the Daqahliya security directorate in Mansoura. Among them the liberal Free Egyptians Party, Sabbahi's Popular Current group, and the Liberal Constitution Party, founded by former vice-president Mohamed ElBaradei.The Brotherhood has repeatedly denied to have links to militant attacks. It specifically condemned the Mansoura bombing, asserting that the Ikhwan ''has been and always will be peaceful'' in its quest to reverse the ''coup d'état''.
Experts say the government decision may face serious legal challenges. Amr El-Shalakany, professor of law at the American University in Cairo, said that the prime minister has not the right to declare the Muslim Brotherhood a terrorist group as there is no law that gives him the power to do so. Article 86 of the Penal Code does not give him the right to announce the Brotherhood as terrorist," Shakalany said. His decision could easily be overturned on appeal at the administrative court, he said. Human rights lawyer Malek Adly agreed with him, saying that the government took an administrative decision and not a legislative one, as only the interim president has a right to issue decisions and laws, not the cabinet.