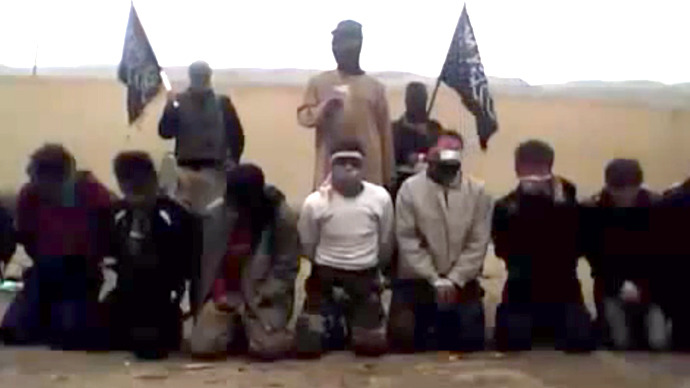 Still taken from video showing the execution by Islamists of 11 supporters of Assad. The video is supposedly from May 2013.
Islamist militants are perpetrating "a shocking catalogue of abuses" in secret jails across northern Syria, including torture, flogging and killings after summary trials, Amnesty International said on Thursday.
It said in a report that the al Qaeda-linked Islamic State in Iraq and the Levant (ISIL), one of the most powerful jihadi groups to emerge from Syria's almost three-year-old conflict, is operating seven clandestine prisons
in rebel-held areas.
Detainees are held for reasons ranging from suspected theft to offences against Islam such as smoking or sex outside marriage. Others are seized simply for challenging ISIL authority or belonging to rival armed groups, it said. "Those abducted and detained by ISIL include children as young as eight who are held together with adults in the same cruel and inhuman conditions," said Philip Luther, Amnesty's Director for the Middle East and North Africa.
Human rights abuses have been rife in Syria's civil war, with forces loyal to President Bashar al-Assad responsible for many of the worst ones, according to the United Nations.
Urging world powers to halt the flow of arms to ISIL and other armed groups accused of war crimes and other abuses, Amnesty said Turkey in particular should prevent jihadi fighters and weapons crossing its border into northern Syria. Gulf Arab states that back the anti-Assad rebels and are viewed as a main source of funding for the radical armed groups should also cut off flows of arms and equipment, Amnesty said. The dominance of ISIL and other hardline rebel groups has eclipsed more moderate, Western-backed rebels, fracturing the military campaign against Assad and prompting Western alarm that al Qaeda is building a stronghold in northern Syria.