At least 14 people have been killed and some 200 wounded by a powerful car bomb attack early Tuesday morning on the security headquarters of Egypt's Daqahliyya governorate in the
city of Mansoura.
Among the dead are eight policemen, a civilian and three unidentified individuals. The head of Mansoura's Security Directorate was among the injured, two of his aides were killed.
The explosion ripped through the building's side façade and damaged a number of police vehicles and parts of adjacent buildings which include the state's council, a theatre and a bank.
Al-Ahram's Arabic website quoted an anonymous security source as saying that two bombs had gone off almost simultaneously. The first bomb, he said, was planted in a higher floor in the building, the second in a car next to the Security Directorate. A third bomb planted in another car was defused, the source added.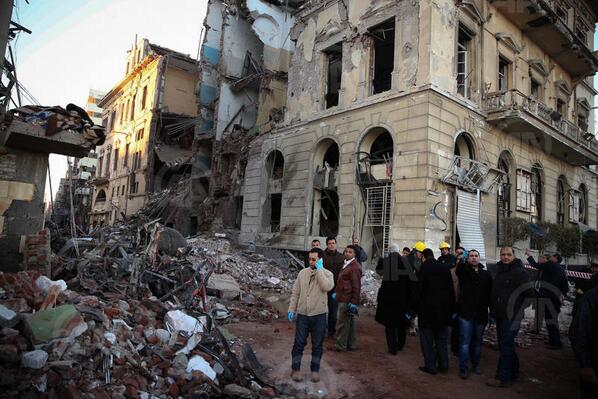 The Muslim Brotherhood was quick to deny any connection to the attack. Egyptian Prime Minister Hazem El-Beblawi refused to confirm that Egypt had designated the Muslim Brotherhood a terrorist group, contradicting an earlier statement by one of his aides. The attack was the worst so far since the ousting of president Mohamed Morsy, early July. Earlier attacks took place on 24 July, an explosive device detonated at a police station near the Security Directorate in Mansoura, killing at least one conscript and injuring 19.
Egypt's Interior Minister Mohamed Ibrahim, on 5 September, survived an assassination attempt when a bomb exploded near his convoy in northeast Cairo. However, most bomb attacks since Morsi's overthrow have occurred in the Sinai region, which borders Israel and the Palestinian Gaza Strip. Approximately 200 soldiers have been killed in Sinai since July.