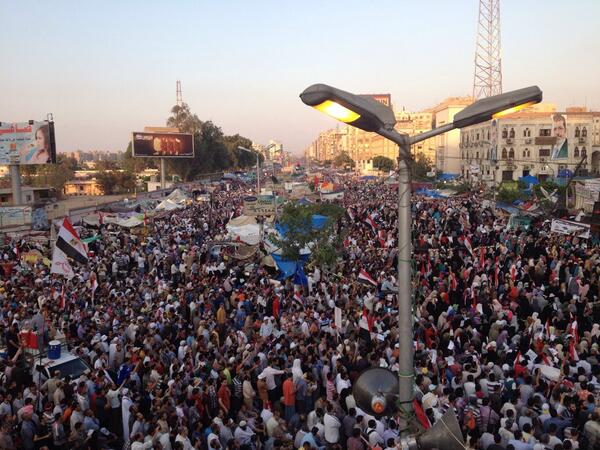 Thousands demonstrated for the deposed president Morsi on Friday near the Rabaa al-Adawiya mosque in Nasr City (Cairo). Another big demonstration by supporters of the Muslim Brotherhood took place at the Nahda square near the university in Giza. In several provincal towns there were marches as well in support of Morsi. The United Sates on Friday made an appeal on Egypt to
release Morsi.
Germany did the same somewhat earlier.The ex-president is kept at an undisclosed place since 3 July.
Tahrir was the place where supporters of the coup against Morsi gathered. Friday evening they held an Iftar (meal to break the Ramadan fast) to celebrate what the 6 April Movement called the 'third wave of the revolution'. The Qasr El-Dobara Church, located near Tahrir Square and known for its role in treating the injured during Cairo's many post-revolution clashes, provided the
dining tables.
(Photo Mayada Wadnomiry)