Iran's currency, the rial, fell as much as 18% on Monday to a record low against the US dollar, according to
media reports
. It dropped to as much as 35,000 to the dollar, according to agencies citing currency exchange sites in the country.The currency has reportedly lost 80% of its value since the end of 2011.
The fall suggests economic sanctions imposed over its disputed nuclear programme are hitting economic activity ever harder. The rates were not available on the exchanges' websites later in the day, supposedly because Iran did ot want to make known the full extend of the fall.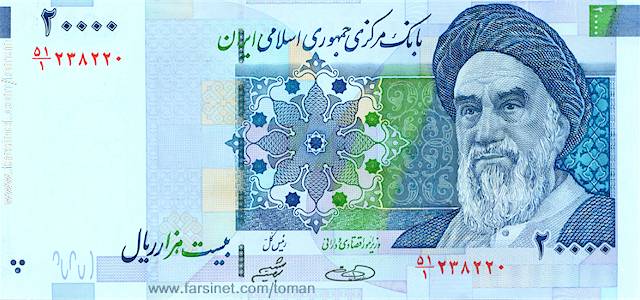 20.000 Iranian rial
Iran is all but frozen out of the global banking system as a result of US-led sanctions, which are related to Iran's presumed ambition to obtain an atomic bomb. The sanctions, which are backed by the European Union, include a ban on the trade of Iranian oil, which means Iran is unable to sell its oil to most other countries. Analysts think it may also have to accept lower prices from countries still willing to trade with it.
According to a recent report by the Iranian newsagecy Fars, which was translated by BBC Monitoring, "Iranian technological analysts" said in an open letter to the president that most of the country's economic problems had been caused by the weakness of the currency - as imported raw materials used by manufacturers need to be paid for in hard currency. A weaker domestic currency makes imports more expensive and is expected to raise prices for people inside Iran.Latest figures indicate that inflation is running at an annual rate of 24% in Iran.