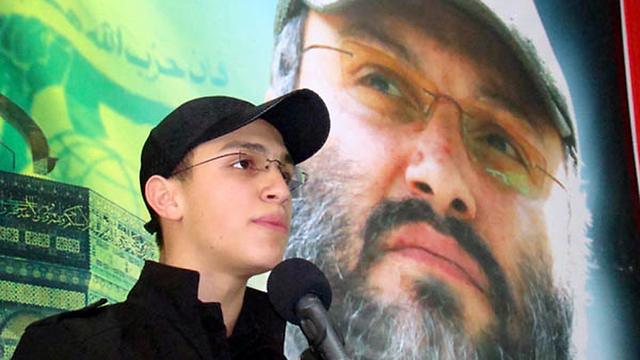 Jihad Mughniyeh with in the background his father Imad, who was killed by Israel in 2008. Jihad Mughniyyeh had been appointed Hezbollah's commander in the Quneitra area in Syria only a few months ago.
Updated.
An Israeli helicopter strike in Syria killed six members of Lebanon's Hezbollah movement including the son of group's late military leader Imad Mughniyeh, an Iranian general and an important military leader of Hezbollah, sources
close to Hezbollah said. A
source close to Hezbollah told AFP the killed military leader was Mohammed Issa also known as "Abu Issa," a senior commander responsible for Hezbollah operations in Syria and Iraq. Iran confirmed Monday that a general of its elite Revolutionary Guards died in the strike.
"General Mohammad Ali Allahdadi and a number of fighters and Islamic Resistance (Hezbollah) forces were attacked by the Zionist regime's helicopters," a statement on the
Guards' website said.
The four other Hezbollah casualties were identified as: "Sayyed Abbas" Abbas Ibrahim Hijazi; "Kazem" Mohammed Ali Hassan Abu al-Hassan; "Daniel" Ghazi Ali Dawi; "Ihab" Ali Hassan Ibrahim." Iran did not confirm or deny earlier reports that said six Iranians had been killed in the airstrike.
Israel's military declined to comment, but Israel's Ynet news Web site quoted an Israeli military source as saying the attack had targeted "terrorists who intended to attack Israel".
The missile strike hit Jihad Mughniyeh's convoy in the Syrian province of Quneitra, near the Israeli-occupied Golan Heights, the Lebanese sources said.
The strike comes three days after Hezbollah leader Sayyed Hassan Nasrallah said he considered frequent Israeli strikes in Syria as a major aggression, and that Syria and its allies had the right to respond. Hezbollah has been fighting alongside President Bashar al-Assad's forces in Syria's nearly four-year-old civil war.
The Hezbollah-run al-Manar news channel confirmed that a group of its fighters were killed when they were checking an area in Quneitra. It said Hezbollah would announce the names of the dead later. Quneitra has seen heavy fighting between forces loyal to Assad and rebels including fighters linked to al Qaeda. "An Israeli helicopter fired two missiles on Amal Farms in Quneitra," the Lebanese news channel said earlier, adding that two reconnaissance planes had also been seen flying over the area.
Jihad Mughniyeh (born in 1991) had only recently been appointed to the position of commander of the Hezbollah forces in Quneitra. It is unlikely that these forces, who fight alongside the troops of the Syrian president Assad against the Syrian rebellion, had an attack in mind against Israel. It is on the other hand quite likely that Israel had been waiting for an opportunity to kill the son of Imad Mughniyyeh, who had been the Hezbollah intelligence chief and long very high on Israel's list of most wanted men,before he was killed in a car bomb in Damascus in 2008, which was widely believed to have been the work of the Israeli Mossad. Mughniyeh sr was thought to have been responsible for attacks on the barracks of the so called multinational troops in Beirut in 1982, that killed hundreds of soldiers, for abductions of foreigners and of Israeli soldiers and commanders in Lebanon, and of a bomb attack on a Jewish organisation in Buenos Aires that killed more than 80 people in the nineties among othet things. He was reportedly one of Hezbollah's best military commanders en strategists. The appointment of his son as commander of the Qunietra area was widely reported
in the Israeli press
, and one can assume that the Israelis were not all that happy to have him there, close to the Golan heights.
Israel has struck Syria several times since the start of the war, mostly destroying weaponry such as missiles that Israeli officials said were destined for Hezbollah, Israel's long-time foe in neighboring Lebanon. Syria said last month that Israeli jets had bombed areas near Damascus international airport and in the town of Dimas, near the border with Lebanon.