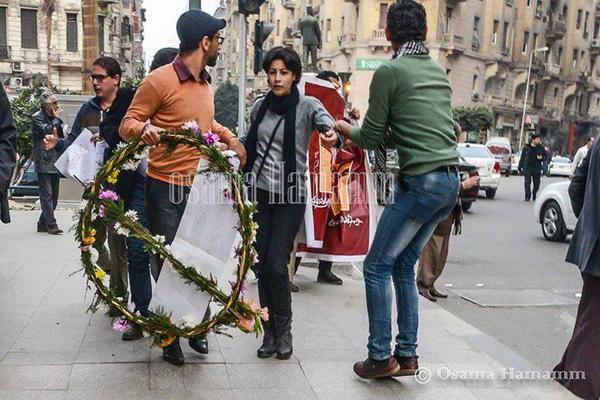 Shaima with the flowers she was going to lay at the monument shortly before she was shot. The man next to her in the green puillover was aslo hit.
Shaimaa al-Sabbagh, a leading member of the Egyptian ''Socialist Popular Alliance Party'', was shot dead on Saturday during a march top commemorate the uprising of 25 January 2011 in
downtown Cairo.
The party organized a march on Saturday afternoon from their headquarters in Hoda Shaarawy Street to Talaat Harb Square. Shaimaa, who was going to lay flowers at the monument of the fallen revolutionaries on Tahrir Square, was shot in the face with birdshot. She collapsed in the arms of her husband and was pronounced dead at the hospital. Security forces also used tear gas and arrested a number of demonstrators, including Talaat Fahmy, the party's secretary general.
Reports also state that other protesters were injured during the march. The demonstrators were allegedly carrying signs with the famous revolutionary slogan, "bread, freedom and social justice," and called for revenge against what they called the "killers of the martyrs." The party stated on their official Facebook page that Sabbagh was shot by the police during a peaceful march that only aimed to place flowers on the Tahrir memorial site.
Shaima's husband holds her shortly after she has been shot. She collapsed in his arms.