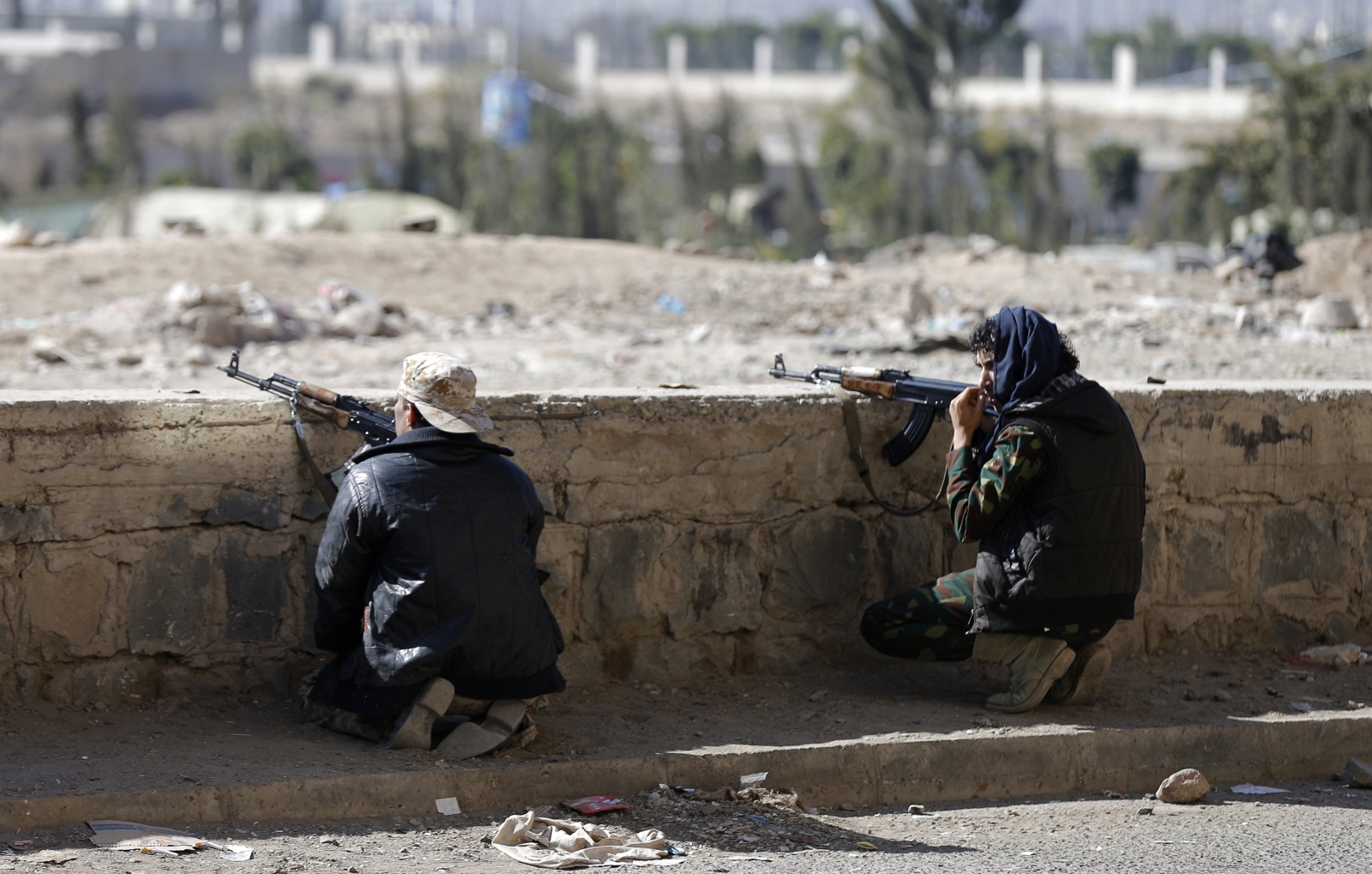 Houthi fighters in position near the presidential palace in Sanaa. (Photo Reuters)
Fierce fighting between troops and Shia Houthi rebels has erupted in the Yemeni capital, Sanaa, with the presidential palace and PM's
convoy attacked.
Prime Minister Khaled Bahah's motorcade was shot at after he left a meeting with the president, though no-one was hurt, the information minister said. An unknown number of people haven been killed. Bodies are lying in the streets of Sanaa.
Clashes began early on Monday in one of the most serious challenges to the government for months. The spark of the latest spasm of violence appears to be rooted in the Houthis' rejection of a draft constitution that divides the country into
six federal regions.
The Houthi's last year overrran the capital and many other parts of the country and Hadi and Houthis accuse each other of not implementing a UN- brokered peace deal, reached
in September, that called for Hadi to form a new national unity government and reform the country's government agencies, while the Houthis would withdraw their fighters from cities they seized.
Houthis also accuse Hadi of financing and harboring al Qaeda militants. Hadi's government says the Houthis use the accusation as an excuse to seize more territory.
Tensions between the government and the Houthis, which were already running high, escalated when rebels abducted the president's chief of staff on Saturday. The rebels said they seized Ahmed Awad bin Mubarak to disrupt a meeting he was to attend that day on the draft constitution which they oppose, and to prevent September's peace deal "from being broken".
The Houthis, who adhere to a branch of Shia Islam known as Zaydism and whose leaders till the revolution of the sixties ruled all of Yemen, have staged periodic uprisings since 2004 in an effort to win greater autonomy for their northern heartland of Sa'ada province. They consolidated their control over Sa'ada during the 2011 uprising that forced long-time President Ali Abdullah Saleh to step down and since July inflicted defeats on tribal and militia groups backed by the leading Sunni Islamist party, Islah. They spread out over the country and battled jihadist militants from al-Qaeda in the Arabian Peninsula (AQAP), which has vowed to defend the country's Sunni community.