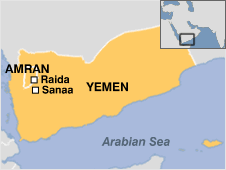 Fighters from the Shiite Houthi militants have taken control of a northwestern Yemeni province after weeks of clashes against the military. The death toll over the last three weeks topped 320.The top military commander was killed by the Houthis after his camp was ambushed.
Top leaders in the pro Muslim Brotherhood Islah party have called its members to withdraw from the government. Following days of intense fighting in Amran, the regional capital city of the northern Yemeni province of Amran, Houthis fighters managed all odds to gain the upper hand, sending thousands of civilians to flee
the war zone.
Te loss of Amran, a city which is located directly north of the capital, Sana'a, is of eminent military importance. It is a major blow to President Abdo Rabbo Mansour Hadi. > With Houthi militants in control of most of Yemen's highlands, Hadi is in a difficult position at a time when the country is expected to finalize the last step of its ''transition of power''.
Houthi militants have communicated that they do not intend to march on Sana'a, as their quarrel was always with their political arch enemy, al Islah, a party that is closely lined to the tribal federation of the Hashed. Their statement failed to reassure politicians in the capital, writes the Yemen Post.
According to Reuters' figures, over 100 Houthi militants have been killed and as many as 150 were injured on Tuesday alone.
"Justice and right have prevailed, the underprivileged sons of Amran have prevailed," said Mohammed Abdul-Salam, an official spokesman for the Houthis.
The Houthis are Shi'ite Muslims of the Zaidi (or Sevener) branch, as opposed to the Twelver Shi'is, the current that is common in Iran. They are the heirs of the old imamate of Yemen, that was abolished in the 1962 coup that sent the last Imam of Yemen packing. The Houthis claim that their northern provinces are being negelcted by the central government and that they don't have a voice in the deciosn making process in Yemen.