l
'Bab al-Shams'
The Israeli authorities gave Palestinian activists one hour Saturday to quit a protest camp in part of the
West Bank
where
Israel
has vowed to build new settler homes, an organiser
told AFP.
More than 200 activists erected a 20-tent "outpost" on Friday in the sensitive West Bank corridor east of
Jerusalem
where Israel plans settlement construction that would destroy prospects of territorial contiguity for a Palestinian state to be. The camp lies between annexed Arab east Jerusalem and the Jewish settlement of Maale Adumim, in the so called E1 sector.
"Members of the Israeli Civil (military) Administration told us this morning that we have one hour to evacuate the site," one of the organisers, Abir Kopty, told AFP. "We have no intention of leaving of our own accord," she added.
Lateron the activists reported that they prempted the eviction order and went to the Israeli high court where they got a stay for six days. They openly acknowledged that they were copying the successful tactics of Israeli settlers, who have helped to expand existing settlements in the West Bank by setting up small outposts without permission and then resisting the efforts of the occupation authorities to evict them. 'We were ready to the eviction order so along with building
#BabAlShams
we went to the court & got suspending order! We are using their tools,' Abir Kopty tweeted.
The protest outpost, dubbed Bab al-Shams (Gate of the Sun in Arabic), after a novel by the Lebanese writer Elias Khoury, was welcomed on Friday by a senior Palestinian official who described it as a "highly creative and legitimate non-violent" way of protecting Palestinian land from Israeli settlement activity.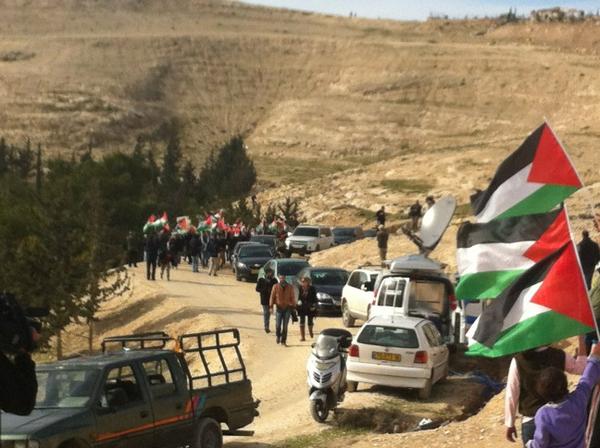 In spite of the fact that the site is surrounded by troops still dozens of new participants maneged to enter the site on Saturday. (Photo Abir Kopty/twitter)