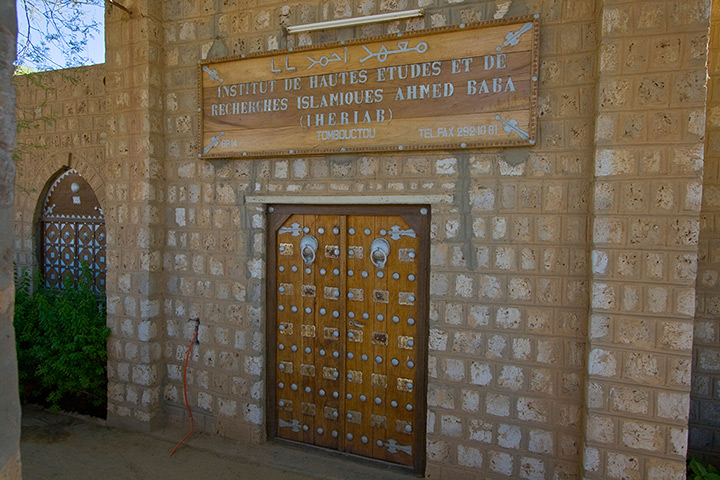 Photos: The Ahmed Baba Institute.
The fate of tens of thousands ancient manuscripts in Mali
remained uncertain
Monday as
French troops liberated the city of Timbuktu
from Islamic insurgents who were said to have set fire to the library there.
Timbuktu is the last major city occupied by the insurgents, who have held sway there for 10 months, imposing the strict Islamic version of religious law, including carrying out public executions and amputations for crimes.
The city, a UNESCO World Heritage Site, was an especially vibrant center of Islamic thought in the 14th, 15th and 16th centuries. As the Guardian
explains
in a retrospective article, the manuscripts collected in the city "cover areas such as medicine and astronomy, as well as poetry, literature and Islamic law. Many were kept for centuries in private family libraries, passed down through the generations."
In recent years, some 20,000 of these manuscripts were collected in the new Ahmed Baba Institute of Higher Islamic Studies and Research. When the insurgent army occupied Timbuktu last year, they used the 50,000 square-foot complex as a sleeping quarters.
On Monday, Timbuktu mayor Hallé Ousmani Cissé
told the Guardian
that on Saturday the militants torched two buildings containing the manuscripts.
It is not yet known how much damage was done to the library, which had also been in the process of digitizing many of the documents. Many of the documents were stored in underground vaults.
Most are in Arabic, but there are many in other languages, including Songhai, Tamashek, Bambara, Turkish and Hebrew. The oldest dates from the year 1204.