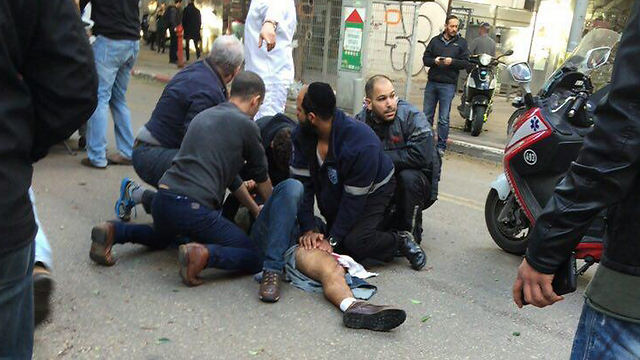 Two people were shot dead and six others wounded in a shooting at a crowded pub on 130 Dizengoff Street in Tel Aviv on Friday afternoon in what is suspected to be a terror attack.
Israeli forces were searching for the shooter, who fled the scene. A massive search is currently underway for the perpetrator.
Two of the wounded have been hospitalized in serious condition. Two more were moderately wounded, one lightly-to-moderately wounded and another lightly wounded. Some of the injured were hit by glass shards broken by the bullets, and some were wounded from the chaos that broke out, said Yehuda Hildeshaim, a volunteer with United Hatzalah.
"When I got to the scene I found one person who was critically wounded and unconscious after being shot. Several of us from the Hatzalah unit gave him first aid and he was evacuated to Ichilov Hospital in Tel Aviv.
"Following that we continued to treat other wounded at the scene."