Sunni rebels from the Islamic State in Iraq and Syria (ISIS) overran the Iraqi city of Tikrit on Wednesday and closed in on the biggest oil refinery in the country, in Baiji, making further gains in their military advance against the Shi'ite-led
government in Baghdad.
The refinery in Baiji can process 300,000 barrels per day and supplies oil products to most of Iraq's provinces and as well as Baghdad. Security sources said the fighters drove into the town in armed vehicles, torching the court house and police station before freeing prisoners. The militants later withdrew into surrounding villages after tribal leaders persuaded them not to take over the energy installations in Baiji, local officials and residents said.
Tikrit, the home town of former Iraqi dictator Saddam Hussein, which lies about 160 km north of Baghdad, became the second city to fall to ISIL in two days. ISIS now dominates the city of Falluja and large parts of the Anbar province in central-Iraq, as well as Mosul and Tikrit in the north of the country. Security sources said ISIL militants on Wednesday drove more than 60 vehicles into Tikrit, The militants occupied the provincial government headquarters and raised the black flag of ISIL. A police brigadier general told
AFP news agency
that fighters attacked from the north, west and south of the city. A police major told the agency that ISIL had freed about 300 inmates from a prison in the city, which is the capital of Salaheddin province.Around 100 ISIL fighters held mass prayers in central Tikrit after taking control.
"Our forces were caught by surprise, they never expected ISIL would use police and army Humvee vehicles, we mistook them for government forces and it was too late to stop them," said a police captain who fled from Tikrit to Samarra.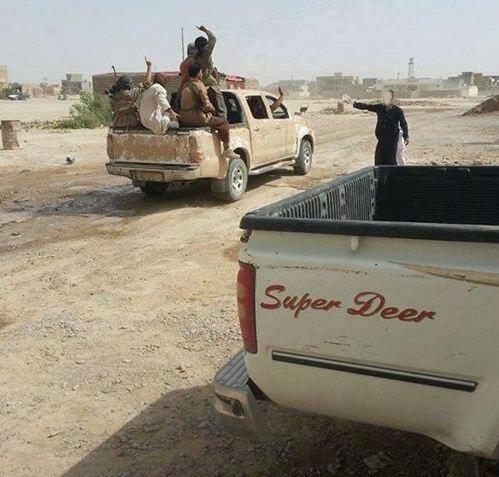 ISIS entering Tikrit
(Twitter / Aymenn J Al-Tamimi)
There were reports that the nearby city of Kirkuk, was also being attacked by ISIL. AFP reported overnight that ISIL had advanced in the Hawijah, Zab, Riyadh and Abbasi areas west of Kirkuk. Militants executed 10 soldiers and policemen on Wednesday near the town of Riyadh, 60 km (40 miles) southwest of Kirkuk, after setting up a checkpoint on the road, police sources said, while in Tikrit six police officers were executed.
In Mosul, 80 Turkish citizens were being held hostage by the militants, the foreign ministry in Ankara said. Turkey threatened to retaliate if any of the group, which included special forces soldiers, diplomats and children, were harmed.
The UN Security Council on Wednesday condemned the upsurge of violence and the taking of Mosul by what it described as a "terrorist organisation" attempting to destabilise the region.The 15-nation council also demanded the immediate release of the Turkish hostages.The United States expressed concern about the deteriorating security situation in Iraq and pledged "any appropriate assistance" to help the Iraqi government.