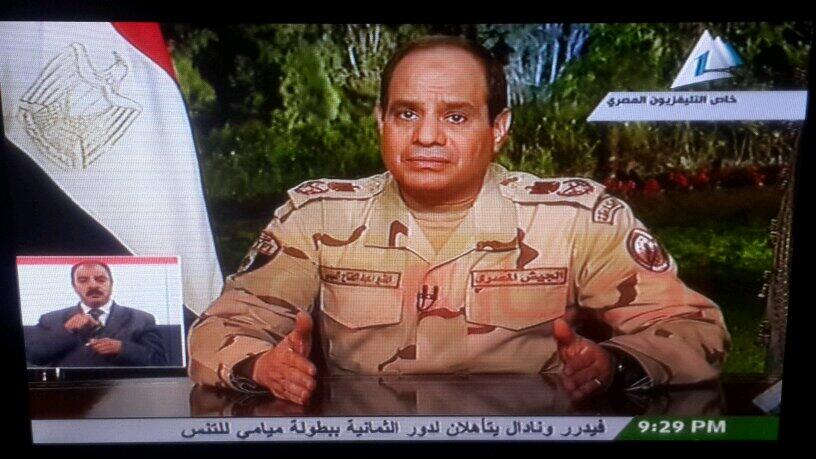 El-Sisi during his speech.
Field Marshal Abdel-Fattah El-Sisi resigned from the military on Wednesday, announcing that he will run in the upcoming presidential elections on 30 March. "Today is the last time you'll see me wearing this [military] uniform. I was honored to wear it to defend the nation and today I am also leaving it behind to defend the nation," said El-Sisi, stressing that he has been a member of the armed forces for over 45 years.
Sisi said that ''his determination to run in the election does not bar others from their right to run. I will be happy if whoever the people choose succeeds." Any Egyptian who has not been convicted by the law, El-Sisi said, is unconditionally welcomed to be an active partner in the future of Egypt.
Before breaking the news, El-Sisi met with the Supreme Council of the Armed Forces (SCAF) to reportedly submit his resignation and discuss his potential successor as defence minister. Chief of Staff Sedki Sobhi was promoted to the rank of colonel general by interim President Adly Mansour in the meeting preceeding El-Sisi's address, a rank historically held by Egyptian defence ministers. El-Sisi's announcement came hours after Mansour arrived in Cairo from Kuwait, where he was attending the Arab League summit.
El-Sisi (59) who was appointed defence minister in August 2012 by then-president Mohamed Morsi, was widely expectedto make his candidacy known, particlarly after SCAF issued a statement in January, empowering El-Sisi to run for president.
Last Saturday, Amr Moussa, former minister of Foreign Affairs and former head of the 50-Member Committee that drafted Egypt's 2014 Constitution, revealed the main aspects of El-Sisi's electoral platform. He said that El-Sisi is concerned with building the state on a modern basis and in line with the 2014 national charter. The plan, he said, includes a reformulating of "the development and investment map" in Egypt and he added that prominent figures and experts are involved in discussions on the platform.
A recent survey conducted by Egyptian polling centre Baseera said 51 percent of Egyptians would vote for El-Sisi, while 45 percent of Egyptians said they were undecided. Hamdeen Sabbahi, a Nasserist politician who came third in the 2012 presidential elections, is the only candidate to have so far announced his intention to run in the elections, expected this spring. Sabbahi said he would run regardless of El-Sisi's decision.
Other candidates who ran in the last presidential race decided not to run this time, either in support of El-Sisi or in protest at a controversial article in the presidential elections law that leaves PEC's decisions immune to appeal.