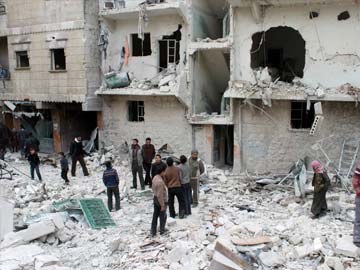 People inspect a building that has been destroyed by a barrel bomb on 2 February 2014. (AFP)
Syrian military helicopters dropped more improvised "barrel bombs" on the northern city of Aleppo on Sunday, a monitoring group said, bringing the death toll to at least 83 people in the latest episode of a campaign that many consider a war crime. Most of the victims killed since Friday have been civilians from the city's eastern districts, including women and children, according to the British-based Syrian Observatory for Human Rights, which has a broad network of sources across Syria.
The '' barrel bombs'' fell after a week-long first round of Syrian peace talks ended on Friday with no progress and the government delegation unable to say whether it will return for the next round in about a week. U.N. mediator Lakhdar Brahimi said the opposition delegation would be back on February 10, but President Bashar al-Assad's delegates had told him they would have to check with Damascus before agreeing to return.
Brahimi listed 10 simple points that he felt the two sides agreed on in the talks and said he thought there was more common ground than the sides recognized. But neither side has budged an inch from their main positions: the opposition wants the talks to focus on a transitional administration it says will remove Assad from power; the government wants to talk about fighting "terrorism" - a word it uses to refer to all its armed foes. The sides could not even achieve more modest goals, such as an agreement to allow aid convoys into Homs, Syria's third largest city, where thousands are trapped without sufficiant food supplies. "Homs was extensively discussed, although unfortunately there has been no breakthrough yet," Brahimi said.