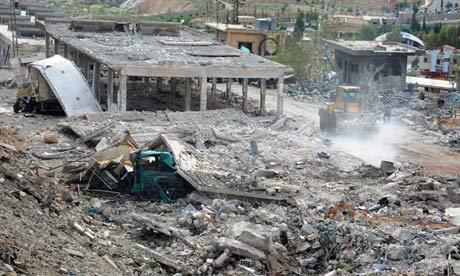 Syrian handout showing the damage of an Israeli strike in May (AFP/Getty)
Israeli aircraft have carried out a strike near the Syrian coastal city of Latakia, a US official says.
The official said the strike targeted Russian-made missiles intended for the Lebanese militant
group Hezbollah.
Latakia is a stronghold of Syrian President Bashar al-Assad, where his Alawite community is concentrated.
This is believed to be sixth Israeli attack in Syria this year. Israel does not comment on specific operations.
Israeli officials have repeatedly said it would act if it felt Syrian weapons, conventional or chemical, were being transferred to militant groups in the region, especially Hezbollah.
A US official said the Israeli strike took place overnight from Wednesday into Thursday.
Reports circulated on Thursday of explosions near Latakia, but the cause was not clear.
"Several explosions were heard in an air defence base in the Snubar Jableh area," said the Syrian Observatory for Human Rights, a UK-based activist network.
Neither Israel nor Syria have commented on the reports. Earlier this year, Mr Assad had promised to respond to any future strikes by Israel.
One unnamed US official told the Associated Press that the missiles targeted by Israel were Russian-made SA-125s.
It's the fifth time this year that Isarel carries out airstrikes at targets (presumbaly weapons) in Syria. Th eralier one took successively place in Jnauari, May (2x) and July.