The scene at Rabbae al-Adawiya square (Photo Masa'ab el Shamy).
Updated.
The Egyptian presidency has declared a state of emergency on Wednesday for the duration of a month, as well as a curfew from 7 in the evening till 6 in the morning, as clashes intensified nationwide after the army earlier in the day came into action to clear the two sit ins of Muslim Brotherhood supporters in Cairo. The sit ins at the Rabbae al-Addawiya mosque and Nahda-Square near the university in Giza has been held for about a month in order to demand the reinstatement of president Mohammed Morsi.
Clashes erupted in a number of neighborhoods in Cairo and violence broke out around the country with numerous reports of attacks on churches in Upper Egypt, Suez as well as attacks on state buildings in Alexandria, Marsa Matrouh
and elsewhere.
There were reports the the church of the Virgin Mary in Minya, dating back from the 4th century, was torched. The main Coptic church in Sohag was also attacked.
In Fayoum, southwest of Cairo, at least 26 people were killed in clashes with security forces.
In Minya province the number of dead was reported to be 41 people, including six policemen
Hundreds of protesters blocked a main road in Upper Egypt's Assiut city after the pro-Morsi National Alliance for Supporting Legitimacy in the province called for protests at government offices there. Several protest marches got underway in Alexandria, intermittently blocking off main roads, according to Ahram's Arabic news website. Hundreds of pro-Morsi protesters blocked the main coastal road during the protests. Ahram Arabic also reported a demonstration in
Upper Egypt
's Aswan, where it said tens protested at the governorate offices, throwing stones in reaction to the attacks on the Cairo and Giza sit-ins. In Minya police vehicles were torched by angry protesters. In Luxor a hotel went up in fire.
Earlier in the day, the Central Bank of Egypt ordered all banks to close their branches at 12 pm while the trading on the stock market remained operational, incurring heavy losses. Also all train traffic had been brought to a halt.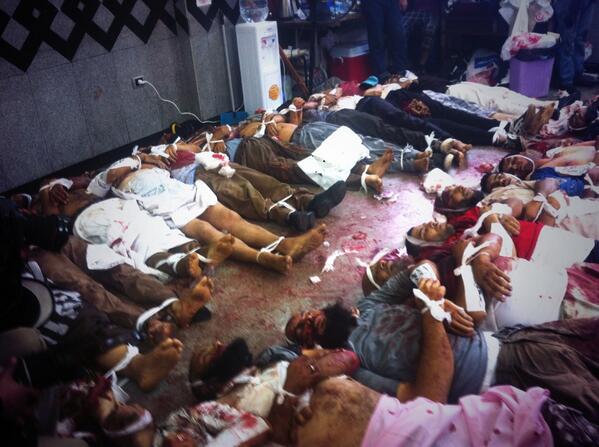 One of the mortuary rooms in the hospital at Rabbae al-Adawiya Square (Photo Matthew Cassel)
The Egyptian Interior ministry reported that the death toll stood (Thursday evening) at about 600 killed and more than 3500 people wounded nationwide. (The Muslim Brotherhood is talking about thousands killed). The Egyptian minister of the Interior, Mohamed Ibrahim, said at a press conference Wednesday night that also at least 43 members of the police were killed - 18 officers and 25 soldiers - and 211 injured. He added that 21 police stations were raided by supporters of the Brotherhood. Kerdasa police station in Giza was attacked using rocket-propelled grenades and two police officers were killed.
"Many protesters fired excessively from roof tops [at the Rabbae sit-in in Nasr City] on security forces," said Ibrahim, claiming that security forces "only used tear gas to disperse the protests." Ibrahim, who described pro-Morsi protesters as an "armed gang," said scores of weapons were confiscated during the dispersal, including grenades, guns and bullet-proof vests. He added that at least seven churches were destroyed or torched Wednesday by
suspected Islamists.
Also hundreds of peole were arrested.
Two journalists were killed in the violence at Rabbae al-Adawiya Square, the 26 year old Habiba Ahmed Abdelaziz of Gulf News and Sky News camera man Mick Deane. Also the 17-year old daughter of one of the leaders of the Muslim Brotherhood, Mohammed Beltagy, was killed.
Vice president Mohammed AlBaradei resigned from his post. In his resignation letter he explained that he could not tajke responsiblity for one drop of spilled blood and that he from the beginning had been against (and had been warning against) taking action against the sit-ins of the Brotherhood supporters. Al-Ahram Online reports that Deputy Prime Minister Ziad Bahaa El-Din and Deputy Prime Misister Hossam Eissa are set to turn in their resignation
as well.
Needless to add to all this that this new bloodbath is bound to complicate matters further in Egypt. Once more the army has proven that it is totally incapable of dealing with opposition in an humane and orderly way. At the other hand the Muslim Brotherhood crossed all lines by attacking shops, churches and other property belonging to Christians (the identify Christians as allies of the West) and by attacking property like municipal offices or, as was also reported, the Alexandria library. How can this ever be reconciled?? Egypt is really in deep trouble.