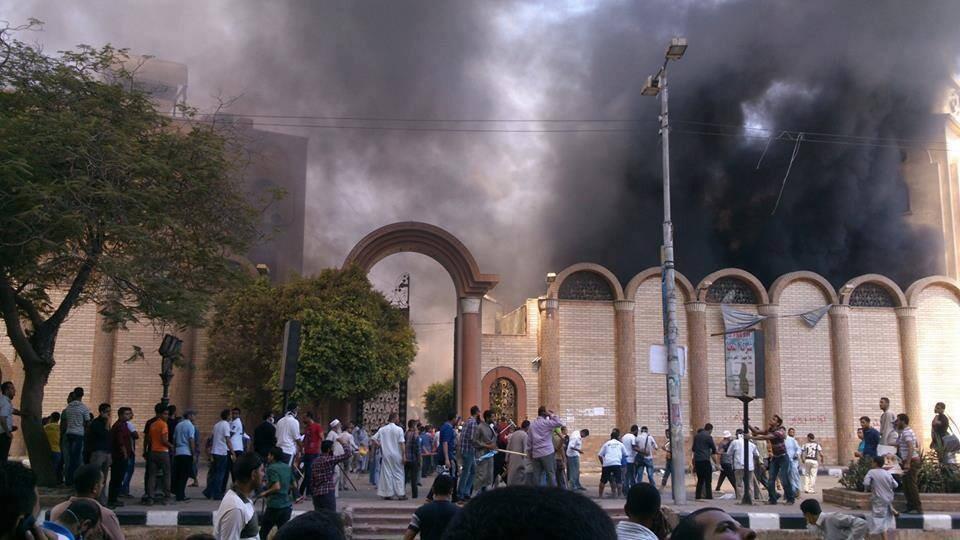 The church of Mar Girgis (St George) in Sohag, 14-8-2013
The site Jadaliyya carries a report about the attacks on churches and other Christian porperty and buildings in Egypte. I quote:
Since the army removed MB's Mohamed Morsi from power, sectarian attacks have continued to occur. These were, however, dwarfed by the destruction wave that started on 14 August.
While all eyes were on Cairo following the bloodbath in the Rabaa and Nahda Squares, reports started to emerge from elsewhere in the country that Christian institutions and properties have come under attack. Myself and Cairo-based physician and activist Mostafa Hussein started
collecting
, curating, and verifying the reports as they were coming.
A wide range of attacks have been reported on social media, and independently corroborated by citizen journalists, researchers from the
Egyptian Initiative for Personal Rights
(EIPR), and local newspapers. Later on, various religious press releases confirmed the reports we had already gathered. Many of these are complemented with images and some – with raw footage.
Altogether, we collected evidence that during the day of 14 August alone the attacks affected:
Thirty-seven churches,
five schools,
three Bible societies,
four offices of Christian institutions,
and tens of homes and businesses
These premises were either burnt down or at least badly damaged. In none of these cases was there confirmation of the presence of police or security forcesin the vicinity of the buildings.
(For a list of damaged and destroyed buildings, click here)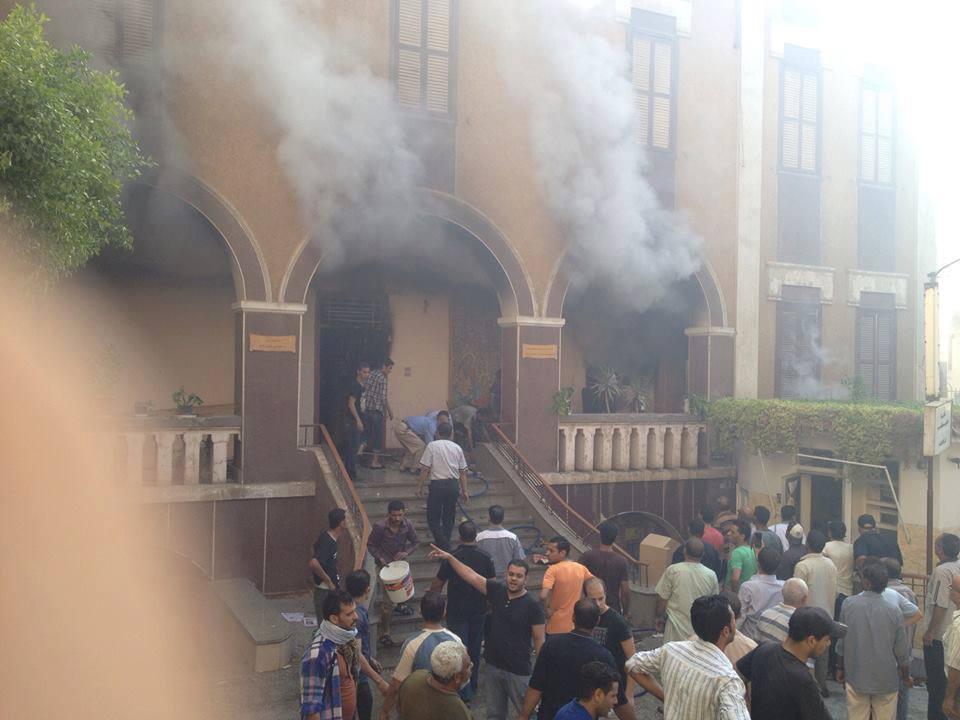 Franciscan Church of St. Therese Assiut, 15-8-2013.
Of course, someone has to claim responsibility for these hate crimes. But who is to blame?
Virtually everyone besides the Muslim Brotherhood accuses the pro-Morsi crowds. (....) Contrastingly, the MB accuses the security forces of orchestrating the attacks to incriminate the group. Indeed, theMuslim Brotherhood leadership has been slow, at best, to condemn.(...)
But more immediate than blaming a given religious movement is the question of securing these churches and whether it was the responsibility of the state. Independent English-language Cairo-based online news outlet MadaMasr
reported
on 14 August that, in Sohag, residents confirmed that the church was ransacked at around 9:30 am, and no visible police presence. Furthermore, eyewitnesses that MadaMasr cites reported that a number of nearby businesses were destroyed, and these were owned by both Christians and Muslims.
The military issued a
statement
on 14 August, ordering "the immediate reconstruction of all churches damaged" during the 14 Augustviolence, and promising that all the rebuilding effort will be undertaken by the military's engineering department and that "all expenses will be paid by the Armed Forces."
Copts have said it was state negligence in responding to these threats, and the MB have called it conspiracy. Whoever's guiltiness it could be, the implications of the bloodshed and the past and ongoing sectarian violence
(see updated list)
are deeply rooted. Moreover, although observers inside and outside of Egypt continue to issue hopeful calls for reconciliation, two important considerations are particularly important. First, based on past history it is fair to conclude that the biggest winners from sectarian tensions and violence are those who advocate for a more prominent role for a security state that could effectively "manage" such conflicts.
In a context in which Egypt's military rulers have been actively seeking to consolidate popular support for extraordinary "counter-terrorism" measures, this point could not be more pertinent. (Italics are mine, TheP.)