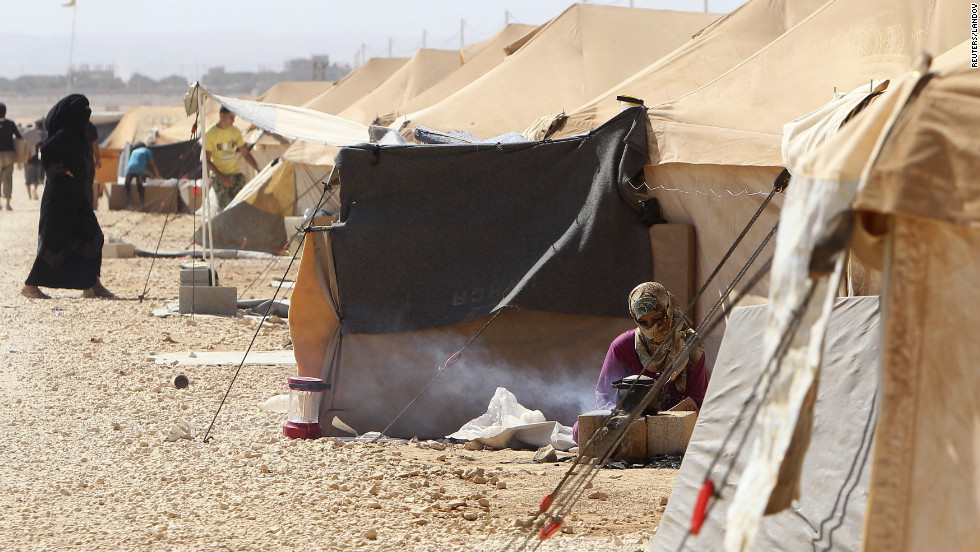 Syrian refugees in a camp in Jordan, close to the Syrian border.

More than 100,000 Syrians fled their country in August, the highest monthly total since the crisis began in March 2011, the U.N. refugee agency said Tuesday. That exodus sharply increased the number of Syrians now living in neighboring countries, bringing the total number of refugees to 234,368 in the past 17 months,
the agency said.
Along with activists' reports that the death toll in August was also the highest in the civil war with 5,000 killed, all signs are pointing to unprecedented levels of misery in a country where
President Bashar Assad
's regime is fighting an increasingly violent rebellion.
"If you do the math, it's quite an astonishing number," U.N. refugee agency spokeswoman Melissa Fleming said of the number of people who fled in August, speaking to reporters Tuesday in Geneva.
"And it points to a significant escalation in refugee movement and people seeking asylum, and probably points to a very precarious and violent situation inside the country," she said.
But even the August figure only counts refugees who are registered and those awaiting registration. Officials acknowledge the real number of Syrian refugees is likely way higher.The uprising began with largely peaceful protests of Assad's regime but has turned into a civil war that activists say has killed at least 23,000 people.
According to the U.N. refugee agency, there are now more than 80,000 Syrian refugees in
Turkey
, where the borders remain open, and there is a backlog of 8,000 Syrians waiting to be processed at the border, Fleming said.
Jordan
has more than 77,000 Syrian refugees;
Lebanon
has more than 59,000; and
Iraq
nearly 18,700, according to the agency.
Inside Syria, the fighting has spread to the two largest cities — the capital of Damascus and the commercial hub of Aleppo. The U.N.'s World Food Program spokeswoman Elisabeth Byrs said more than 264,000 people are taking shelter in public buildings in the Aleppo region — about 200,000 in rural areas and more than 64,000 in the city. Byrs said her agency is scaling up operations to provide food urgently needed by 1.5 million people this month, mainly in areas where there has been fighting and people have been made at least temporarily homeless.