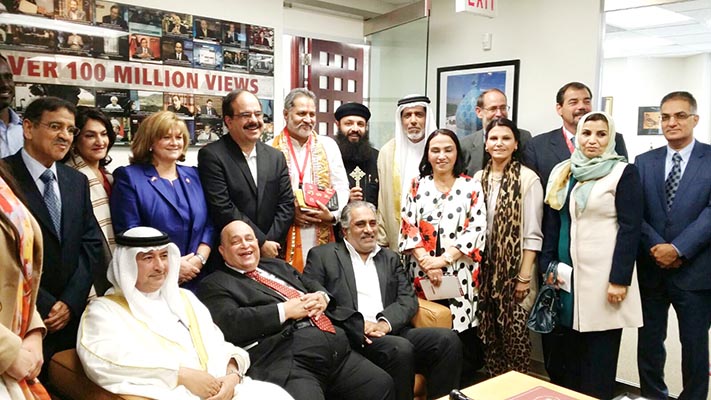 ''This is Bahrain''
Bahrain is involved in a campaign to improve its image that has been badly damaged by the bloody way it suppressed the demonstration for more democracy by the (mainly Shi'ite) opposition. A 200-member strong ''This is Bahrain'' delegation is currently visiting Washington and New York and is hosting a conference and exhibition in each city to highlight Bahrain's multi-cultural society and promote peace, tolerance and co-existence. The events and visits are organised in collaboration with the American Chamber of Commerce Bahrain and follow similar roadshows in
London, Berlin, Brussels and Paris.
Bahrain Federation of Expatriate Associations secretary-general Betsy Mathieson, who is leading the "This is Bahrain" delegation to the US, said "We are set to work closely together to change negative media perception of the situation in Bahrain and to use the Bahrain model of centuries-old religious freedom, peaceful co-existence and mutual respect in the fight against global terrorism." said Ms Mathieson.
In order to promote this and to ''correct'' the negative image that Bahrain suffered ''from negative media reports'' the delegation has sought the cooperation of ..... the Middle East Media Research Institute (MEMRI), which, according to Ms Mathieson '' does an outstanding job on many fronts."
It is not clear whether the delegation is aware of the Israeli connection of MEMRI. This organisation has been founded by the Israeli Yigal Carmon, a former colonel of the Israeli military intelligence, together with Meirav Wurmser, a former employee of Dick Cheyney when he was vice-president and someone who has close connections to American (often Jewish) neocon circles, who had a hand in the 2003 invasion of Iraq. MEMRI offers translations of articles and videos from Arabic and Islamic media, thereby concentrating on extremist and otherwise odd output, mostly picked from lesser known tv--stations or second or third rate publications, which in general portray a negative and often frightening picture of Arab and Islamic backwardness. The organisation caters for large section of the American members of Congress and also to a lesser extend (rightist) politicians and opinion leaders in other countries and thereby contributes a lot to the negative image of Islam and Arabs in general.