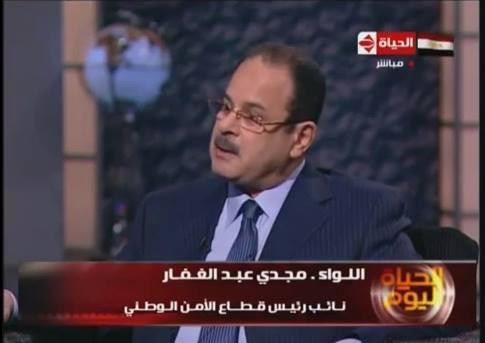 Magdi Abdel Ghaffar
The Egyptian president Abdel Fattah el-Sisi on Thursday replaced eight ministers in his cabinet and declared the formation of two new ministries.The changes signaled the end of the tenure of the controversial minister of the Interior, general Mohammed Ibrahim. Ibrahim, who served as interior minister since January 2013, and who has been widely lambasted for the brutal security crackdown on political dissidents after former President Mohamed Morsi's ouster in July 2013. His time in office also saw a dramatic rise in fatal attacks on police personnel, including an attempt on his life in September 2013.
The president's office announced that Ibrahim will now serve as security affairs adviser to the prime minister. Major General Magdy Abdel Ghaffar, who headed up the National Security Agency (NSA) in 2011, took over his post. He was sworn in on Thursday by president
Abdel Fattah al-Sisi
.
The NSA was inaugurated by the Supreme Council of the Armed Forces (SCAF) during their brief tenure at the helm of the nation after former President Hosni Mubarak fell from power in February 2011. SCAF formed the NSA to replace the notorious State Security Investigation Services (SSIS), which was widely perceived as the iron fist of Mubarak's regime and infamous for its ruthless human rights violations.
Ghaffar served as NSA deputy chief from March to July 2011, when he became its head. In October 2012, however, the Morsi administration sent Ghaffar into retirement, replacing him with General Khaled Tharwat.
Born in Menufiya in 1952, Ghaffar graduated from the Police Academy in 1974 and spent most of his career in the SSIS. Two years prior to the revolution, Ghaffar was appointed head of the Ports Authority, until he was called back to the NSA.
In his first televised appearance in 2011, Ghaffar admitted that under Mubarak, the SSIS had infringed on the personal freedoms of Egypt's citizens, implemented illegal practices and failed to adhere to the basic principles of human rights. But he did assert that nonetheless, state security played an "important role" in combating terrorism."We confess that there were some incorrect practices under the old regime. We confess there were violations," he said. "But we have to understand that security forces were working under certain circumstances created under a certain atmosphere."
Ghaffar insisted however that the newly formed NSA, in contrast to the SSIS was led by a new philosophy that would "suit the new democratic order''. According to him the apparatus as one of the "revolution's victories."
The Sisi administration also replaced the ministers of tourism, agriculture, telecommunications, education, and culture and created the posts of technical eduication and of minister of state for population. The changes came just over a week before the major investment conference in Sharm el-Sheikh that the government hopes will bring billions of dollars into the
Egyptian economy.