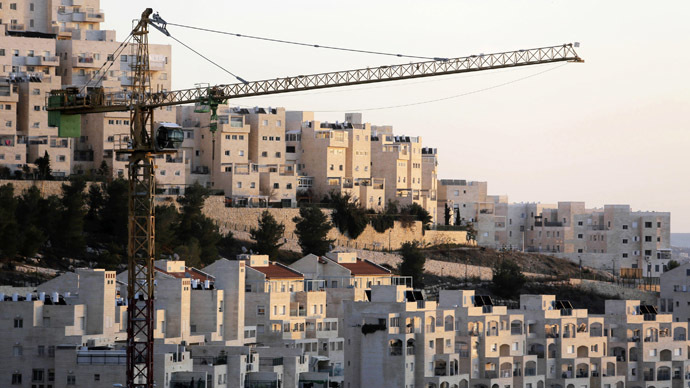 Har Homa (Jabal Abu Ghneim) near Jerusalem. (Photo Reuters)
The Israeli organzation
Peace Now reports:
Summary of the third Netanyahu government: A substantial increase in construction starts, planning and tenders – specifically in isolated settlements and the most disputed areas in terms of the chance for two states.
A. Construction Starts - 40% increase in construction starts. 68% of the new construction is in settlements east of the outline proposed by the Geneva Initiative, the areas most challenging for the two-state solution.
B. Tenders– A decade's (at least) record of tenders in the settlements and East Jerusalem. Tenders for 4,485 residential units were published in 2014 alone.
C.
Plans
– The third Netanyahu government promoted an average of 460 residential units per month, mainly in isolated settlements, double the number promoted by the previous government.
A. Construction Starts
According to Peace Now count:
In 2014 construction of 3,100 residential units began in the settlements; 2,671 permanent structures and 429 caravans and light construction structures.
In addition, 165 public buildings (kindergartens, educational institutions, synagogues, etc.) and 92 industrial and agricultural structures were built.
9% of the construction – 287 residential units – occurred in the illegal outposts, while the number of settlers therein, according to Peace Now estimates, comprise only 4% of all settlers.
This demonstrates an increase of 40% compared to the respective period last year.