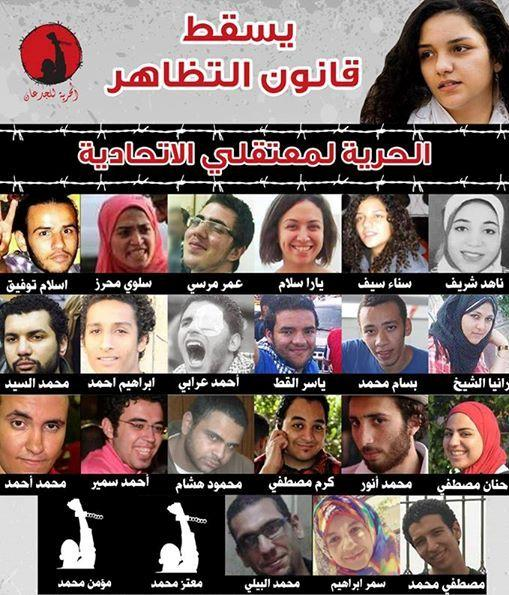 The 23 convicted protestres . Sana Seif and Yara Allam are the second and third fro the left on the top row. (Ahram Online)
An Egyptian court on Sunday sentenced 23 pro-democracy activists to three years in jail for organising illegal protests, the latest in several verdicts against political activists in recent months. They included activist Sana Seif, sister of prominent activist and blogger Alaa Abdel-Fattah, rights activist and lawyer Yara Sallam, photojournalist Abdel-Rahman Mohamed of Al-Badil news website and photographer
Rania El-Sheikh.
The 23 have also been fined LE10,000 (approximately $1,390) and will be placed under police surveillance for three years after having served their jail time.
The 23 were arrested on 21 June during a demonstration calling for the appeal of the protest law which bans demonstrations without police authorisation and punishes violators with imprisonment.
Sana Seif, 20, also daughter of late well-known human rights advocate and lawyer Ahmed Seif El-Islam, has been on hunger strike for almost two months to protest the notorious law and the "unjust" detainment of thousands under the legislation, according to her sister Mona Seif.
Yara Allam, 28, is a lawyer with the Egyptian Initiative for Personal Rights and a bilingual blogger who writes in English and Arabic. She won the North African Shield in 2013, a regional human rights prize.
Among other accusations the defendants have been charged with are stirring chaos, illegal assembly, vandalism and possessing arms or fireworks. Defense team lawyers Ragya Omran and Ali Abbas, have stated their intent to appeal.