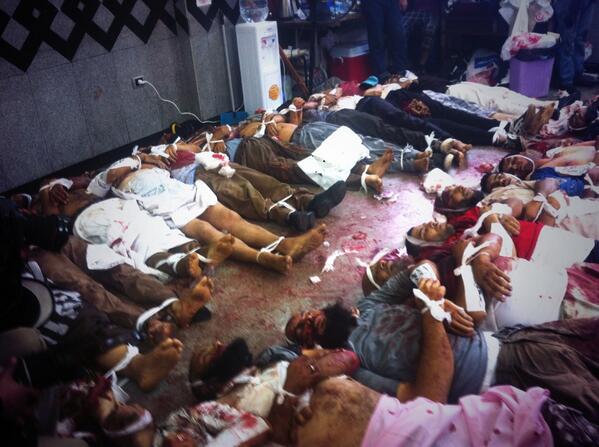 One of the improvised mortuaries for victims of the Raba'a al-Adawiya killings. (Photo Matthew Cassel)
Human Rights Watch onm Tuesday published a report on the way the Egyptian authorities in July and August 2013 dispersed demonstrations against the removal of the elected president Mohammed Morsi, thereby killing at least 1.150 people. According to HRW the killings probably amount to crimes against humanity.
HRW documented that the operation was executed following a detailed plan. In the 188-page report,
"All According to Plan: The Rab'a Massacre and Mass Killings of Protesters in Egypt"
it describes the way the Egyptian police and army methodically opened fire with live ammunition on crowds of demonstrators opposed to the July 3 ouster of Mohamed Morsy, Egypt's first elected civilian president, at six demonstrations between July 5 and August 17, 2013.
"In Rab'a Square, Egyptian security forces carried out one of the world's largest killings of demonstrators in a single day in recent history," said Kenneth Roth, executive director of Human Rights Watch. "This wasn't merely a case of excessive force or poor training. It was a violent crackdown planned at the highest levels of the Egyptian government. Many of the same officials are still in power in Egypt, and have a lot to answer for."
The authorities have failed to hold even a single low-level police or army officer accountable for any of the killings, much less any official responsible for ordering them, and continue to brutally suppress dissent. In light of the continued impunity, an international investigation and prosecutions of those implicated are needed, Human Rights Watch said. States should further suspend military and law enforcement aid to Egypt until it adopts measures to end its serious rights violations.
Human Rights Watch interviewed more than 200 witnesses, including protesters, doctors, local residents, and independent journalists, visited each of the protest sites during or immediately after the attacks began, and reviewed physical evidence, hours of video footage, and statements by public officials. Human Rights Watch wrote to relevant Egyptian ministries soliciting the government's perspective on these events, but received no responses.
Raba'a al-Adawiya Square after the attack. (Photo Masa'ab al-Shamy)
The report includes a detailed examination of the planning and execution of the dispersal of the protest at Rab'a al-Adawiya Square, where from July 3 to August 14, tens of thousands of largely peaceful Morsy supporters, including women and children, held an open-ended sit-in demanding Morsy's reinstatement. Human Rights Watch used satellite photographs from one night of the sit-in, August 2, to estimate that approximately 85,000 demonstrators were in the square that night.
On August 14, security forces attacked the Rab'a protest encampment from each of its main entrances, using armed personnel carriers (APCs), bulldozers, ground troops, and snipers. Security forces gave little to no effective warning and opened fire into large crowds, leaving no safe exit for nearly 12 hours. Security forces fired on makeshift medical facilities and positioned snipers to target whoever sought to enter or exit Rab'a hospital. Towards the end of the day, the central stage, field hospital, mosque, and first floor of Rab'a hospital were set ablaze, probably by security forces.
One protester, a businessman, described the scene:
They immediately fired tear gas and live fire. It was so intense; I can't even describe it. It was not like the other times before, one or two at a time. It was raining bullets. I smelled the gas and immediately saw people being hit and falling down around me. I have no idea how many people were hit. We didn't hear any warnings, nothing. It was like hell.
Human Rights Watch documented 817 people killed in the Rab'a dispersal alone. Given strong evidence of additional deaths compiled by Rab'a survivors and activists, additional bodies taken directly to hospitals and morgues without accurate record or known identity, and individuals still missing, it is likely that more than 1,000 were killed in Rab'a. Police detained more than 800 protesters from the sit-in, some of whom they beat, tortured, and, in several cases, summarily executed, six witnesses told Human Rights Watch.
Government officials have claimed that the use of force came in response to violence, including gunfire, by protesters. Human Rights Watch found that in addition to the hundreds of protesters who threw rocks and Molotov cocktails at police once the assault began, demonstrators fired on police in at least a few instances. According to the official Forensic Medical Authority, eight police officers were killed during the Rab'a dispersal. After fully dispersing the sit-in on August 14, Interior Minister Mohamed Ibrahim announced that his forces had found 15 guns in the square, a figure that, if accurate, indicates that few protesters were armed and further corroborates the extensive evidence Human Rights Watch compiled that police gunned down hundreds of unarmed protesters.
In a televised interview on August 31, 2013, Interior Minister Mohamed Ibrahim said that the ministry had expected losses of "10 percent of the people" in Rab'a, acknowledging that the sit-in involved "more than 20,000 people." In September, Prime Minister Hazem al-Beblawy told the Egyptian newspaper
Al-Masry al-Youm
that the number of protesters killed in the dispersal of Rab'a and of a smaller sit-in in al-Nahda Square in Giza on August 14 was "close to 1,000." He added that, "We expected much more than what actually happened on the ground. The final outcome was less than what we expected." The day after the dispersal, Ibrahim told
Al-Masry al-Youm
that "the dispersal plan succeeded 100 percent."
br /> Human Rights Watch also documented five other incidents of unlawful killings in July and August 2013:
On July 5, soldiers gunned down five protesters outside the Republican Guard headquarters in eastern Cairo, including one who was simply attempting to place a Morsy poster on a fence outside the headquarters. That killing was captured on video.
On July 8, army and police forces opened fire on crowds of Morsy supporters at a peaceful sit-in outside the Guard headquarters, killing at least 61. Two police officers were killed.
On July 27, police opened fire on a march of Morsy supporters near the Manassa Memorial in eastern Cairo, killing at least 95 demonstrators. One policeman died in the clashes.
On August 14, security forces dispersed the sit-in in al-Nahda Square, killing at least 87 protesters. The clashes resulted in two police fatalities.
On August 16, police opened fire on hundreds of protesters in the Ramses Square area of central Cairo, killing at least 120 demonstrators. Two police officers were killed.
The director of Human Rights Watch, Kenneth Roth, and the directeor Middles ERast and North-Africa. Sarah Lea Whitson, were dienied entry to Egypt yesterday after hvaing been kept 12 hours at the airport. They wanted to present the
report in Egypt.
Several human rights organizatiosn in Egypt today demanded that an Egyptian fact finding commissiion releases the results of it investigation of the
Nahda en Raba'a al-Adawiya killings.