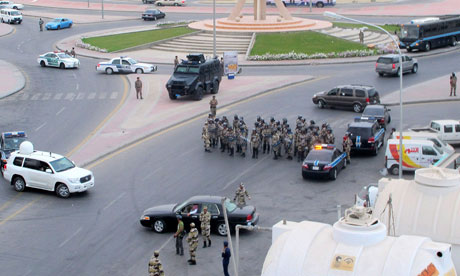 Riot police during a demonstration in Qatif, Eastern Province. (The picture is from, August 2012).
A
security official
in Saudi Arabia says a man was killed in clashes with police in Qatif in the oil-rich
eastern part of the country, which is populated by
the Shiite minority.
Press agency AP
quotes the official, who's identity was not revealed as he was not authorized to speak with the press, as saying that a
police patrol
spotted a number of alleged rioters burning tires near
police headquarters
in Qatif late Thursday. Police responded with gunfire when fired upon, he said. Local websites said the man killed in the exchange of fire was 18 years old. More than a dozen people have been killed in clashes since late last year in Qatif, the kingdom's main oil export hub where a majority of residents are Shiite Muslims.